Tai Chi Research Institute
CLASSES IN TAI CHI CHUAN
IN THE FOOTSTEPS OF MASTER TAM
Founded by Master Tam Cheuk Yin (1926-2016)
Tai Chi Chuan
Tai Chi is an ancient Chinese discipline involving a continuous series of meditative movements. As an internal martial art, it develops inner force, concentration, rootedness, mental equilibrium and vitality. It increases blood circulation, stimulates the activity of the glands and nervous system and massages the internal organs.
Class Schedule
Tai Chi Chuan. Yang style
Wednesdays 6-7PM
Ecole Nationale du Theatre, 5030 St. Denis  –   M. Tam taught Tai Chi classes at this location for over fifteen years.
Yang style form of 108 movements. Two-person exercises ("Push Hands"). Instruction from senior students of Master Tam CheukYing with emphasis on the principles of Tai Chi Chuan.
Drop-ins and beginners welcome.
$10/class. First class is free.
Contact us at lweil22@gmail.com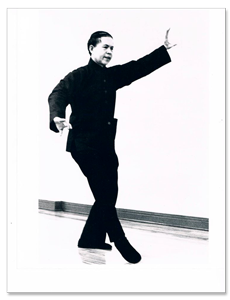 M. Tam (1926-2016) was born in Guangzhou, a province of Canton. He studied 5 years with Mr. Wong, Yang Chen Fu lineage and 10 years with Mr. Leung Chi-Pang in Hong Kong.
M. Tam immigrated to Canada in 1969 and began teaching in Montreal in 1971. He founded the Tai Chi Research Institute in 2000.
Testimonials
F. Dansereau.
"Mr. Tam taught me to discover my own energy, to experience its multiple variations, to notice how it links me to others and to sense how it connects to the rest of the universe. All of this without ever saying a word or stating the least bit of theory. I attended his Tai Chi studio for about twenty-five years. He helped me discover that energy is first of all intention and that the quality of my intention conditions my happiness and influences that of others. He's a master, a true master, and I will always feel profound gratitude towards him."
L. Monaco.
"I started Tai Chi with Mr. Tam in November 2002. I was a "new" single mom at the time, back in Montreal after a coup d'état in the Côte d'Ivoire where I used to live, and I was starting a new job in an insurance company. So I was very, very nervous. But after a few months and even more after a few years my teenager could tell when I had missed a Tai Chi class. And my daughter used to say "Go, go… It's tonight" because without Tai Chi I was getting unbearable … With time and practice I have felt some kind of relaxing sensation. Mr. Tam finally stopped telling me to stretch and I had the feeling I was "integrating" my Tai Chi in my body. Starting to feel something starting from my toes and sometimes going up my legs. I hope this feeling will continue increasing, because it's a kind of joy for me."